Want To Show Your Dog?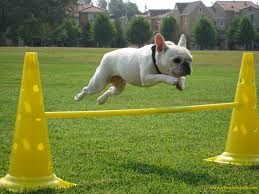 Welcome to the fabulous world of showing dogs. There are several disciplines that you can enter into, such as conformation (purebred dog showing), obedience, agility, tracking, endurance, dancing with dogs, and more. Before you purchase your dog, it is always best to find a breeder who will give you information, guidance, and support – a mentor. They will help you choose a puppy that is showing early signs of having the correct attributes for whichever discipline you wish to pursue.
Here is some information on these, and how to get started:-
Conformation – Before you purchase your dog, it is always best to find a breeder who will give you information, support and guidance – a mentor. Most responsible breeders will actually want to keep the dog in "joint names" (ie – your name and their name) so that they have a say in what happens to the dog, or if you go down the track of breeding they can offer advice and guidance on which stud dog will suit your bitch, and improve on any faults. The dog or bitch must be shown entire (ie – not desexed – unless it is a neuter class) and must be on the main register. You will need to be a member of Dogs Queensland (annual membership); the best thing to do is go along to various shows (All Breeds and Specialty level) and see what goes on. Speak to as many exhibitors as you can, to get an idea, so that you feel confident at your first outing! Shows are entered in advance, and this is via the Gazette (in your Dogs QLD monthly magazine). Shows are a great way to develop a better relationship between you and your dog, to meet other French bulldog fanciers, and most of all, to have fun!
Obedience – The dog can be shown entire or desexed. You must be a Dogs QLD member and it starts at CCD (Community Companion Dog) level and is done on lead. From there, other titles include CD (Novice), CDX (Open), UD (Utility) and Utility Dog Excellent (UDX). Joining a local obedience club will definitely assist and finding a mentor within the obedience world (doesn't have to be a breed specific person) will also help you to fine tune your signals and to get the best out of your dog – very rewarding indeed!

Agility – An agility course if made up of jumps, obstacles, or a combination of both, depending upon the competition. The height of the jump depends upon both the level that the dog is competing at and the height of the dog. There are various titles within agility reflecting, agility, jumping, gamblers, team and snooker to name a few. Joining your local agility club will give you a solid grounding and get the best out of you and your dog. Agility starts on lead, progressing to off lead and to "running naked" (or no collar) at trialling level.
Tracking – More so suited to tracking breeds, French bulldogs have been taught to follow scents, but you will need an experienced breeder to choose the right dog for you that has the drive and willingness to follow through. Tracks are formed either via ground scent or body scent and the dog must find and indicate towards an object that has been dropped along a set track earlier on by a person called the "tracklayer". Depending upon the level of skill of the competitor and their dog, the track can be minutes old, or up to 3 hours old.
Dances With Dogs – This is a relatively new canine sport and most people who compete in Dances with Dogs have reached a certain level within either obedience or agility, and have a good strong working relationship with their dog both on lead and off lead. There are various levels from Starters to Advanced, and within each level there are three judging categories in which the exhibitor earns certain numbers of points. DWD provides handlers and their dogs with an opportunity to demonstrate a skilful, choreographed routine, performed to music.
Photo borrowed with thanks
Contact Details
Mechelle McFadzen - Secretary
Gladstone, QLD, Australia
Email :
[email protected]